Apple's Magic Mouse is a high-quality, wireless mouse designed for optimal performance and longevity, and the second version is even better than its predecessor because it's now rechargeable via a USB cable.
But how long does an Apple wireless mouse actually last?
The battery life on an Apple Magic Mouse 1 should last 3-4 months depending on the quality of AA batteries you use to operate it, and the Magic Mouse 2, when its lithium-ion battery is fully charged, should last 2-3 months depending on usage.
Of course, your mileage may vary.
And if it does, why?
What causes the battery life to drain?
And what if I get tired of swapping out batteries all the time?
I've got you covered – keep reading to learn about how the power on your wireless Magic Mouse works and how to get the most out of it.
By the way – before we get too far into it here, if you want to get more great ideas for your gaming room or home office and want to connect with other home office hackers to make your space the best join my free private Facebook group, Home Office Hacks here.
How long does a charge last on a Magic Mouse 2?
A single charge on an Apple Magic Mouse 2 should last 2-3 months with normal mouse usage.
The Magic Mouse 2 has a built-in rechargeable lithium ion battery that's powerful and designed for long life and high quality performance for a wireless mouse.
It takes approximately two hours to fully charge the battery. The unfortunate part of recharging your Magic Mouse is that it cannot be used while charging because the Lightning port is on the bottom of the mouse itself (not really the best design concept in my opinion).
The overall lifespan of the Magic Mouse 2 battery is somewhere between 3-5 years which is roughly the amount of time any computer or laptop is designed to last, so if you've got one of Apple's rechargeable mice, then it should easily last the duration of computer you're using it with.
How long do batteries last on a Magic Mouse 1?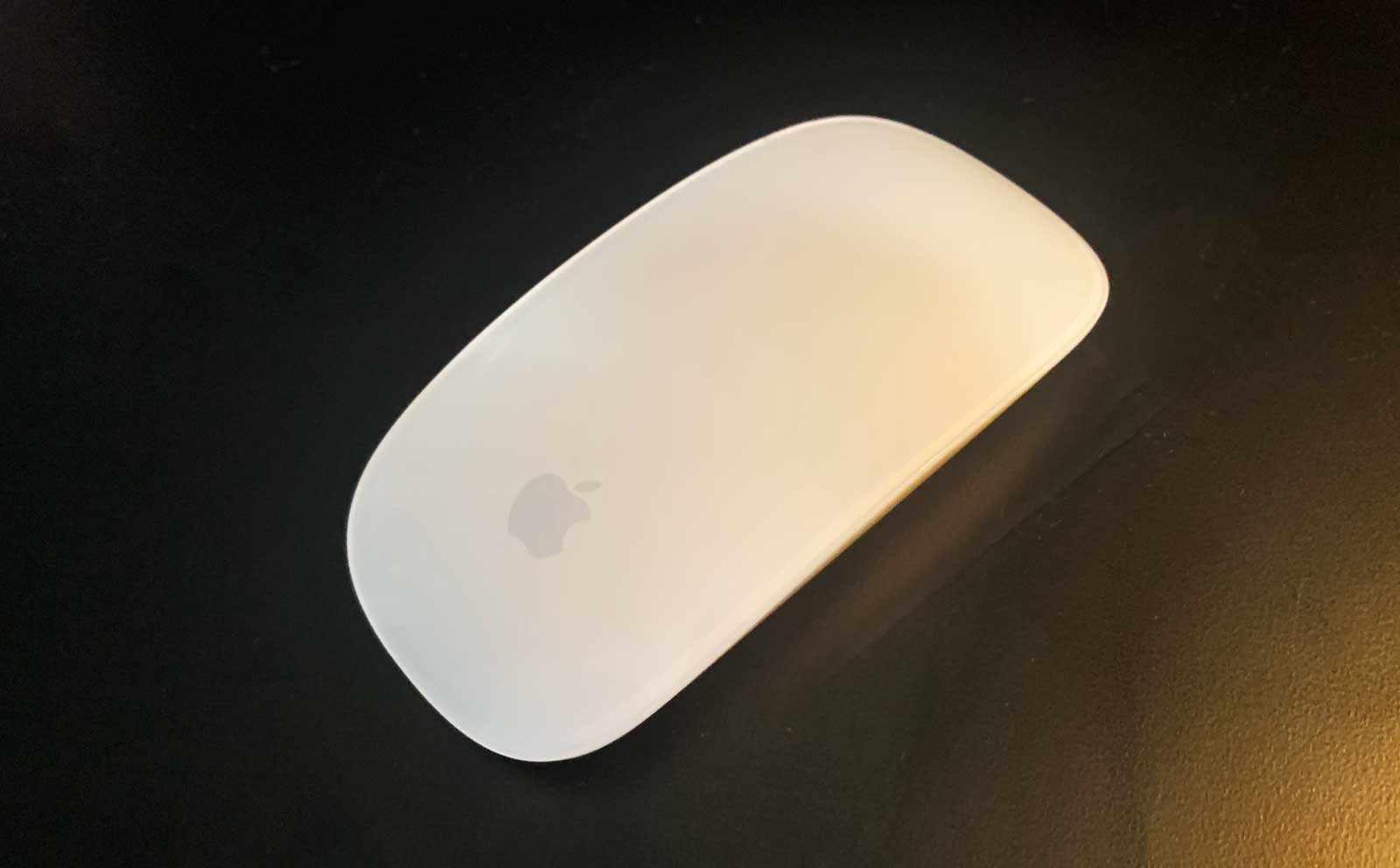 The AA batteries that are used by Apple's Magic Mouse 1  should last you at least 3-4 months.
This mouse is designed to get this kind of life out of normal AA batteries.
I can attest from my own personal experience from using the Magic Mouse 1 for several years that this kind of battery life – 3-4 months – is very normal.
However, some users report much shorter life when using the Magic Mouse 1 – as little as a week.
However, this is not normal. If you're a heavy mouse user, then you're going to need to replace the batteries more often than the expected 3-4 time frame.
A good option if your batteries are dying too quickly is to get a couple good sets of rechargeable batteries like the Panasonic Enloop Pro series of rechargeable batteries.
When you have a rechargeable battery set like that, you can simply swap out the ones that are dead and replace them with others that are fully charged and keep your productivity moving without missing a step!
What's the difference between Apple Magic Mouse 1 and 2
The Magic Mouse 2 is a significant upgrade over the first version, if for no other reason than the Magic Mouse 2 is rechargeable while the Magic Mouse 1 requires 2 AA batteries to operate.
Changing batteries in a wireless device is always a pain because, if nothing else, it means that you need to make an additional purchase, regardless of how small it may be, just to operate the equipment, and that can get really old over time.
Of course, some people would prefer to have the replaceable batteries because they prefer to just swap out the old batteries when they're dead and want to be able to use their mouse when the power runs out without having to worry about waiting for the mouse to recharge.
The other main difference between the Apple Magic Mouse 1 and 2 is that the newer Magic Mouse 2 is available in the traditional Apple white color, or it's available in black.
How often do I need to charge my Magic Mouse?
You should only need to charge your Apple Magic Mouse once every 2-3 months.
Of course, as with anything else, your mileage may vary depending on how you use it.
However, the battery life on your Magic Mouse is really high-quality and should only need to be recharged every few months.
If you're a power user then you will likely need to recharge it more often than that – maybe every 1 to 2 months.
But even if you find yourself in a bind with a battery that's almost dead and you're getting an alert from your Mac (more on that below) plugging it in for even 10 minutes will give you enough charge to last several hours and through the end of the day in most instances. At the end of your day just remember to plug in your Apple Magic Mouse so it can charge overnight, then you should be good to go with plenty of juice for a couple months.
What do I do if my Magic Mouse is completely dead?
If your Apple Magic Mouse is completely dead, simply take a break, plug it in for a few minutes, like I mentioned above, and you'll have plenty of charge to get through at least the next several hours.
If you can't wait, a good alternative is to have another mouse, or an Apple Track Pad on hand that you can use while you're waiting.
Your Mac will work just fine with a wired mouse – I know this from personal experience.
All you need to do is plug in your USB mouse and, after a moment or two, your Mac will recognize the device and you'll be back in business.
Having another device is crucial when your battery is dead.
How do I know when my Apple mouse is fully charged?
The best way to tell if your Apple mouse has enough charge left is to look at its status bar and you can find this under Preferences > Bluetooth and your Apple Magic Mouse will be displayed there, along with a battery icon showing how much charge you have left on your mouse.
If the icon is is full that's an indicator that you're fully charged and you've got plenty of juice. If the battery icon is empty, like in the image below, then you may want to plug it in and recharge it.
In addition, when your Magic Mouse is running low, your Mac will give you an alert on your desktop letting you know that it's time to plug your mouse in and recharge it, or change out the batteries.
Should I turn my Magic Mouse off when not in use?
The Apple Magic Mouse is one of the best mice available today. It has a sleek design and comfortable feel, and its multi-touch surface works flawlessly with Mac OS.
You do not need to turn your Magic Mouse off when you're not using it unless you really just want to do that.
Your mouse is designed to go into sleep mode after sitting idle for just a few moments, so it's already maximizing its own battery life by using this smart technology to power down when not in use.
However, like any computer peripheral, it needs to be charged regularly.
That doesn't mean that you need to turn it off every time you use it though.
In fact, you actually should leave both your wireless keyboard and your wireless mouse in the "on" position. The devices will manage their own power on their own and fortunately, the Magic Mouse has a built-in rechargeable lithium ion battery that will last 3-5 years with regular use.
So, should you turn your Magic Mouse off when not using it?
No, you really should just leave them on so that the next time you're ready to use your computer they'll respond appropriately and wake your system.
Does the Apple Magic Mouse wear out?
As with most things made by Apple, your Magic Mouse is made from really high-quality materials so you should get great performance from your mouse for years to come.
But will it eventually "wear out"?
It's highly unlikely that your mouse will simply wear out, and for the reasons mentioned above.
The Magic Mouse is a very high-quality tool and designed to withstand heavy use over time.
Unlike the cheap wireless mouse you can get from Amazon that are built with low-quality materials to keep the cost down, the parts in your Apple mouse will last you for years to come.
Why is a Magic Mouse so expensive?
Apple's Magic Mouse isn't cheap. In fact, it's one of the more expensive wireless computer mice that's not designed specifically for gaming.
The Magic Mouse is so expensive for two main reasons:
It's the result of precision engineering, meticulous design and built from high-quality parts – from its rechargeable lithium-ion battery to its single click button, with multi-click capabilities, to its high-quality sensor.
Simply put, it's made Apple, and they have a reputation for putting a premium on all their products, from the iPhone, to all their peripheral devices.
Final Thoughts
Apple wireless mice are known for being extremely durable and lasting for years. That's been my experience with them too.
I'm not saying that Apple makes the best mouse. There are many other excellent mice out there.
But I am saying that the Apple wireless mouse works very well and, from its battery life to its overall product life span, it will work exceptionally well for years to come.
Next Steps
Want to join others who are creating the most amazing home offices and get more tips, tricks and hacks on how to make your home office the best it can be?
Join my brand new free private Facebook group, Home Office Hacks to connect with other home office hackers to make your space the best!