There are several different keyboard sizes available. Some of them might look similar at first glance, but in reality are quite different, so it's important to know what you're looking at when evaluating what keyboard size you need and what features you want to have.
There are three main types of keyboards that are most common these days — standard full size (104 keys), tenkeyless (87 keys) and Apple's Magic keyboard (78 keys) compact model that ships with the iMac. Each size presents different arrangements of standard keys along with some unique features. Other sizes and configurations are available for specialty applications like 75%, 65%, 60% and even 40% keyboards that remove keys and features as they shrink, that are less commonly used.
Each keyboard size, also known as a keyboard's form factor, is designed to serve a specific purpose. The smaller a keyboard gets, the more likely you are to use customizable functions and less common key layouts.
Read on to learn more about all kinds of different keyboard sizes and what circumstances call for each one. If you're in the market for a new keyboard, you can narrow down the choice that best suits you.
BTW – 
Before we get started: If you want more great ideas for improving your home office, connect with other home office hackers by joining my free and private Facebook group, Battle Station Setup.
What Are the Most Commonly Used Keyboard Sizes?
The most common keyboard sizes are full-size 104 key layout, the tenkeyless 87 key layout (which essentially just removes the "10 key" number pad), And also Apple's 78 key Magic keyboard.
These different, unique sizes are best suited to different users with unique requirements.
The difference between keyboard form factors comes down to:
Ideal layouts
Customizable function layers
Those who have limited desk space might choose compact form factors over full-sized keyboards to ensure they have ample space for mouse movement.
Someone who uses their keyboard primarily for gaming will likely choose a keyboard with a dedicated, customizable function row to program macro commands.
Depending on your ideal desk setup and your needs, one of the less common keyboard form factors might actually be a better fit and the ideal size for you.
100% Full-Size Keyboards
The standard full-size keyboard is the quintessential keyboard. It's what people imagine when they think of a keyboard. It includes:
All letter keys
All number keys
All arrow keys
All function keys
All additional keys you might never use
The 104 full size keyboard is the one that most often ships with new computers you buy off the shelf. With a full home cluster, full numpad, and a full set of function keys, you will have every option available to you.
These aren't small keyboards but their widespread adoption makes them incredibly popular.
Who Uses This Keyboard Size?
People who have full-sized desks can use full-sized keyboards.
They are great for people who work in data entry but are also used by gamers and programmers too.
Full-sized keyboards usually feature the number pad (or tenkey) on the right side, so right-handed users will find them easy to use.
Pros and Cons of Full-Sized Keyboards
| | |
| --- | --- |
| Pros | Cons |
| Includes all keys | Bulkier and larger than smaller form factors |
| Users don't need to customize to their preferences | Usually more expensive |
| Great for data entry | Right-side tenkey can be inconvenient for left-handed people |
Take a look at a few great options for full-size keyboards below:
Arteck 2.4G Wireless Ultra Slim Full Size Keyboard
Logitech K845 Full Size Mechanical Illuminated Keyboard
WisFox Full Size 2.4G Wireless Keyboard and Mouse Combo
1800-Compact Keyboards (96%) (Niche Size)
While this keyboard form factor exists, it's a lot less common. It's function and layout are basically the same as a full-size keyboard but with a different configuration that eliminates wasted space between key regions.
Sometimes these keyboards leave out the home cluster. There is a lot less, if any, empty space on the overall board.
This option is less popular and less widely distributed, so you're unlikely to encounter it very often.
Who Uses This Keyboard Size?
This keyboard size is less commonly used, but it can accomplish the very same tasks as the full-size keyboard above. It features all of the same keys.
Anyone who prefers a full-size keyboard but prefers a slightly smaller version would probably find this keyboard size useful.
Pros and Cons of 1800-Compact Keyboards
| | |
| --- | --- |
| Pros | Cons |
| Includes all keys (usually) | Keys can feel cramped |
| Smaller than full-size keyboards | Still bulkier than other form factors |
| Smallest size that includes a tenkey | Hard to find and expensive |
A beautiful 1800 option is the Drop Shift Backlit Mechanical 1800 Keyboard.
Tenkeyless Boards (TKL)
Now we can get into keyboards without tenkeys. When you start looking at keyboards that leave out the number pad, you can really start to get compact.
Tenkeyless boards usually have 87 keys, including all alphabet keys, arrow keys, function keys, and home cluster keys.
Who Uses This Keyboard Size?
Those who don't need an attached tenkey can usually find everything necessary in a tenkeyless board. this is one of the most widely used keyboard form factors out there.
It is especially popular with PC gamers who need to use both a keyboard and mouse simultaneously.
Pros and Cons of TKL Boards
| | |
| --- | --- |
| Pros | Cons |
| Smaller to take up less space | No tenkey |
| Great for PC gaming | |
| Easy to move between keyboard and mouse | |
Awesome TKL boards include the following:
Logitech G915 Tenkeyless Lightspeed Wireless RGB Mechanical Gaming Keyboard
COMPATIBILITY – Vertical dual monitor mount holds two screens 13" to 34" in size and 44 lbs in weight (each) with 50x50mm,75x75mm or 100x100mm backside mounting holes. Integrated cable management is included to keep cords clean and organized.
SWIVEL AND HEIGHT ADJUSTABLE FUNCCTION – Adjustable brackets offer +50° to -50° Swivel, +10° to -15° tilt, , and 12 level height adjustment along the center pole.
Razer Huntsman V2 TKL Gaming Keyboard
As you can see from the three options above, TKL keyboard form factors work great for mechanical keyboards. Gamers love both tenkeyless and mechanical keyboards, so the combo makes sense.
75-Percent Keyboards (Niche Size)
Another of the less common options is the 75-percent keyboard. Similar to how an 1800 keyboard is a compact version of a full-size keyboard. A 75-percent keyboard is a compact version of a TKL board.
Who Uses This Keyboard Size?
It can take some getting used to the strange size of this keyboard if you're used to other desktop keyboards.
A 75-percent keyboard is similar to a laptop's keyboard. So, if you're coming from using a laptop all the time, you might feel at home with this size.
Pros and Cons of 75-Percent Keyboards
| | |
| --- | --- |
| Pros | Cons |
| Compact size | Hard to find |
| Practical use of keys | Cramped keys |
| No wasted space | No tenkey |
If you are interested in this unique keyboard size, the Keychron K3 Ultra-Slim 75% Layout Bluetooth Mechanical Keyboard is a nice, compact choice.
65-Percent Keyboards
We've already lost the tenkey, now it's time to do away with the function row and home cluster. Do you really use it that much anyway?
65-percent keyboards aren't all that common, but they are the smallest keyboards you can get that still feature the arrow keys.
Who Uses This Keyboard Size?
Those users who have no need for the function row orhome cluster can feel at home using this keyboard size. This keyboard is compact, light, and portable.
Just so you know, you can still use the functions of your keyboard, but they are embedded within secondary controls on the numbers row.
Pros and Cons of 65-Percent Keyboards
| | |
| --- | --- |
| Pros | Cons |
| Super light and portable | No function row |
| Still includes arrow keys | It can be difficult to use number keys as function keys |
| Great for gaming | Hard to find |
Some 65% keyboard options include:
Fnatic Streak65 Compact 65% RGB Gaming Mechanical Keyboard
FL ESPORTS F12 65% Three-Mode Wireless Mechanical Keyboard
Razer BlackWidow V3 Mini HyperSpeed 65% Wireless Mechanical Gaming Keyboard
60-Percent Keyboards
Unlike 60-percent boards, 65-percent boards are very popular. As with TKL boards, 65-percent keyboards are super popular for mechanical layouts.
The arrow keys and function keys are both embedded into the number key row.
Who Uses This Keyboard Size?
Mechanical keyboard lovers and gamers use this size when TKL keyboards are too big and bulky.
Pros and Cons of 60-Percent Keyboards
| | |
| --- | --- |
| Pros | Cons |
| Extremely compact | Can be too small |
| Symmetrical | No function or arrow keys |
| Ideal for custom keyboard builds | |
Popular 60-percent keyboards include:
RK Royal Kludge RK61 2.4Ghz 60% Mechanical Keyboard
ANNE PRO 2 60% Wired/Wireless Mechanical Keyboard
HyperX Alloy Origins Mechanical Gaming Keyboard Ultra Compact 60% Form Factor
40-Percent Keyboards (Niche Size)
Here's the smallest keyboard that still includes all the alphabet keys. The 40-percent board is a barebones keyboard that doesn't even have the number row or punctuation keys.
Who Uses This Keyboard Size?
Someone who needed the smallest possible keyboard that still had alphabet keys would want this keyboard size.
It would take a lot of adjustment if you were to go from a larger keyboard size with all the additional keys. To be fair, not many people use this size.
Pros and Cons of 40-Percent Keyboards
| | |
| --- | --- |
| Pros | Cons |
| Super light and compact | Hard to find |
| A good candidate for custom keyboard makes | Only letter keys |
| | Difficult to adjust to |
Since these are so rare, it's difficult to find multiple options. However, the Vortexgear Core Mechanical 40% Gaming Keyboard is a highly rated choice.
How Do I Choose the Right Size Keyboard for Me?
The best way to choose your keyboard is to take your needs into account.
Do you need an embedded tenkey? Could you use a standalone tenkey?
How big is your desk? Do you have a particular ergonomic setup you want to achieve?
Will your primary goal be to play PC games? And will you prefer mechanical keyboards?
Most people will find that separate tenkey pads are actually better for data entry. They can be moved around and used on either the left or right side.
Keyboard Layouts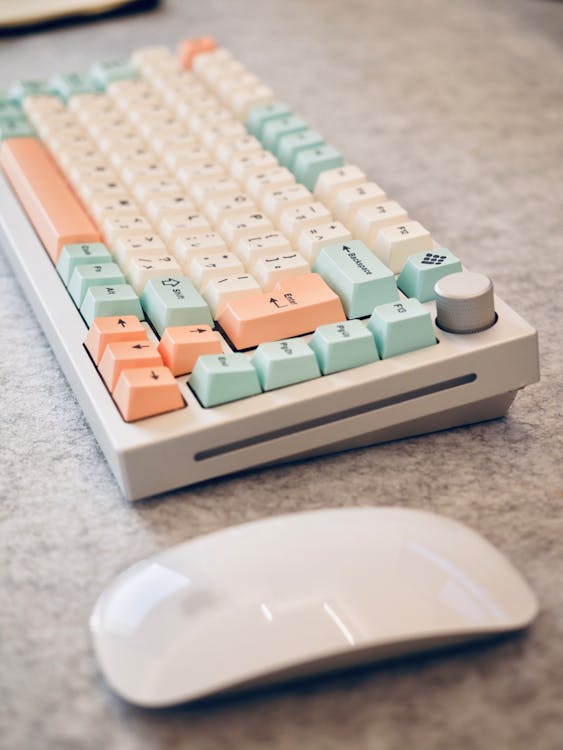 In addition to keyboard form functions, keyboard layouts are extremely important and personal.
Within some of the different keyboard form functions are different layouts. For example, once you get into the compact keyboards there are multiple ways that designers lay keys out for easy access.
Next Steps
Want to join others who are creating the most amazing home offices and get more tips, tricks and hacks on how to make your home office the best it can be?
Join my brand new free private Facebook group, Battle Station Setup to connect with other home office hackers to make your space the best!